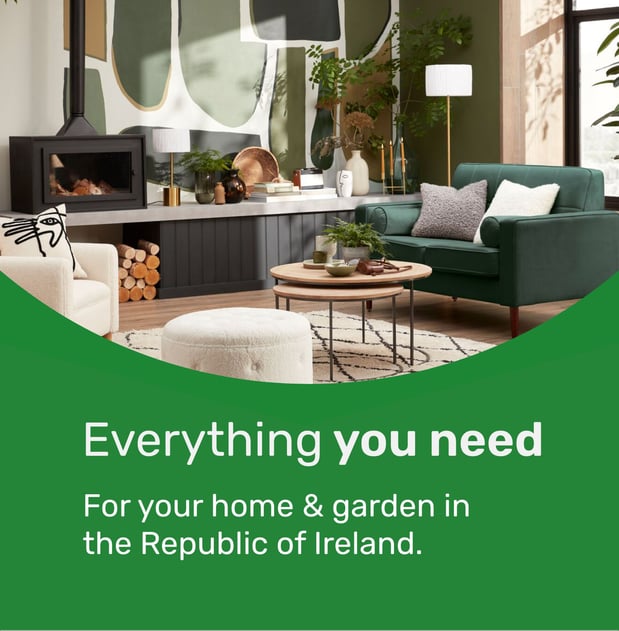 Republic of Ireland
Furniture
Fill your home with beautiful and inspirational furniture designs. From living room to bedroom, we have everything you need.
Shop at Homebase ROI, pay later with HUMM
With humm, you can buy now and pay later in ROI stores by splitting your payments.
Lending criteria, fees and T&Cs apply.
Paint mixing
Find your perfect colour with our in-store paint mixing. Simply choose you're perfect colour, function & finish.
Let us deliver it for you
Store to door delivery service available in ROI stores. Ask in store for details.
Find your perfect kitchen, made in Ireland

If you've always dreamed of a stylish farmhouse kitchen with a modern or classic twist, the Country Living collection is the perfect choice for you and your home. Country Living celebrates a relaxed and simple way of living, with the kitchen firmly at the heart of the home. This ethos is reflected in the stunning new collection of kitchens that bring together the best design and craftsmanship. Locally made, the quality cabinets showcase beautiful wooden textures and rich paint finishes that are both timeless and appealing.

Our House Beautiful kitchen ranges are designed to help you create a stunning kitchen with real wow-factor. Each kitchen has a unique contemporary design, ranging from minimalist aesthetics to stunning high-gloss.

Both our Country Living and House Beautiful collections are locally made, hand-built and come pre-assembled with the door fitted, to speed up installation.

Locally grown plants

We offer a wide range of bedding and perennial plants in our stores. In fact, over 75% of these plants are grown locally in Ireland to the Irish quality assurance standard of Bord Bia.

Working with local suppliers allows us to remain competitive in the local market and provide fresher plants to our customers. It also means we save over 10 tonnes of CO2 emissions from being produced.
8 Homebase stores in Republic of Ireland
Find your local store from over 150 locations open 7 days a week
Frequently asked questions